MCS Special Populations Dept.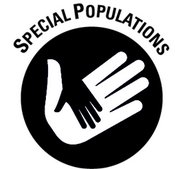 Steps Ahead

Preschool (ages 3-5) program provides early intervening developmental services to eligible children. Services include speech & language therapy, physical and occupational therapy, skills readiness, and developmental classroom.

Inclusion Classes

Opportunities for children with disabilities that affect their learning to access as much academic and supplemental courses in classrooms with non disabled peers. Special educational support and assistance is supplied in the regular classroom.

Resource classes




Certified special education teachers instructing students with disabilities in a "pull out" model for math, reading and language arts instruction.

Comprehensive Developmental Classroom (CDC)




Children identified with severe disabilities are served in specialized CDC classrooms. Students are involved in academic, life skills, and vocational curriculum.





Speech & Language Services

Certified speech & language pathologists provide services for children with language and speech impairments.

Behavior/Intervention & Training Programs

(BIT grades 7-12, BITE grades K-6)

Students with severe behavioral/emotional concerns are enrolled in programs. Behavior/Social Skills training, academic skills, vocational skills, and counseling are available.

Homeless

The purpose of the Tennessee Homeless Education Program is to develop educational programs that meet the unique needs of homeless children and youth. Because homeless children face many obstacles to an appropriate education, such as lack of transportation, frequent school changes, loss of school records, and emotional stress, special programs are necessary.

Migrant

Migrant education aims to identify and service children between the ages of 3-21 who are or whose parents or spouses are migratory agricultural workers. This includes migratory dairy workers or fishermen. It also includes those who have traveled across division or state lines in order to obtain temporary or seasonal work.